When I was little my most beloved baby doll was named "Baby Ann." Our next door neighbor had four daughters and one of them, Katie, was my most favorite babysitter of all. "Baby Ann" was originally Katie's doll and she passed it along to me at some point. "Baby Ann" had crazy scratchy hair that stood up all over and would never stay down. She had a hard head and a soft body. She was a Fisher Price doll and when I googled "Fisher Price vintage baby" she popped right up! Apparently her official name was "Baby Ann"- for some reason I always thought I'd picked that name for her.
Anyway, here she is (although picture her hair standing straight up- that's what mine looks like):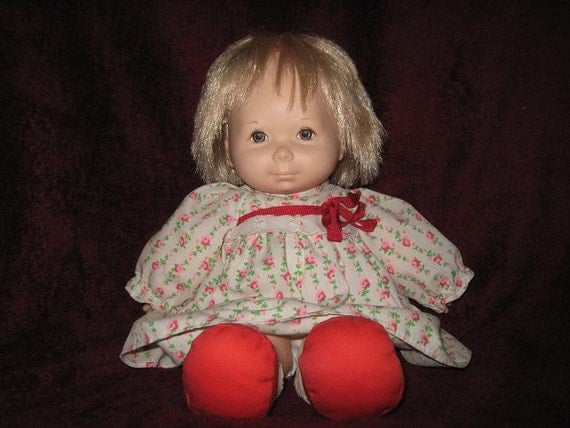 Baby Ann is currently in residence at my parents' house (however I'll have to bring her to Massachusetts for Eliza). When I saw this baby shirt at
Gymboree
a few weeks ago though I had to buy it for Eliza:
Now I have my own real-life "Baby Ann!" (Crazy hair and all!)
This is part of PAIL's Monday Snapshot! Check out more entries here !